What is Grid Trading?
Grid Trading
is a particular trading approach popular on the Foreign Exchange (Forex) markets. It is characterized with opening of multiple orders at (usually) preset levels (called grid lines) as the price action develops. Basically a trade is executed on every N pips (points) the price has moved. Depending on the type of the grid system chosen it can be a buy trade, a sell one or both at the same price level (creating the so called "hedged" position).
The name of Grid Trading
comes from the specific positioning of the trades on the chart. In its most popular form the trades are placed at fixed distance from each other and if you draw a line on where every trade is executed, it looks like there is a grid of trades on the chart (see pic. 1).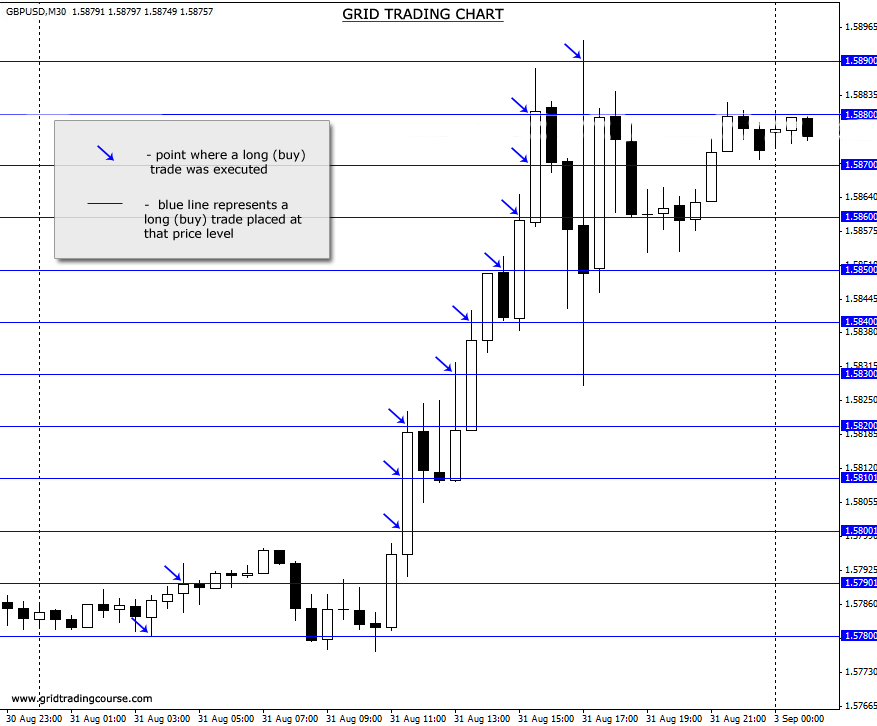 Pic.1 - Example of Grid Trading with long grid on GBPUSD.
For example on the chart above the price has been going from 1.5777 to 1.5894 during a 24h period. The trader has selected a grid step of 10 pips and his base grid line to be at 1.5780. So he has executed a buy trade every 10 pips (at 1.5780, 1.5790, 1.5800, 1.5810, etc.) thus creating a long trading grid. Each blue line on the chart represents a trade executed at that price level i.e. this is a grid line. At the end of the day he had 12 trades executed in the direction of the trend, 10 of them profitable, 2 at a slight loss. Final result is more than 750pips of profit (combined from all trades) in less than 24 hours. Simple and beautiful, isn't it?! And more importantly - profitable…
There's nothing mysterious about grid trading,
there's no big secret behind the scenes. It is really just placing a series of trades as the price action develops. Executing long (buy) trades creates a long grid, short (sell) ones - a short grid, and both shorts and longs - a hedged (classic) grid. And that's it; this is the grid trading technique.
Of course to be profitable,
to be consistently profitable with grid trading you need much more than this. You need to select proper settings for your grid according to the market you are trading, you need to have a solid risk management, you need well thought money management and so on. All the "little" things that turn a trading technique into a successful, profitable system. The same things that any other trading system must have as well…
Let's see another example
- the chart below is taken from a real-time trading session we did during our May course (pic.2).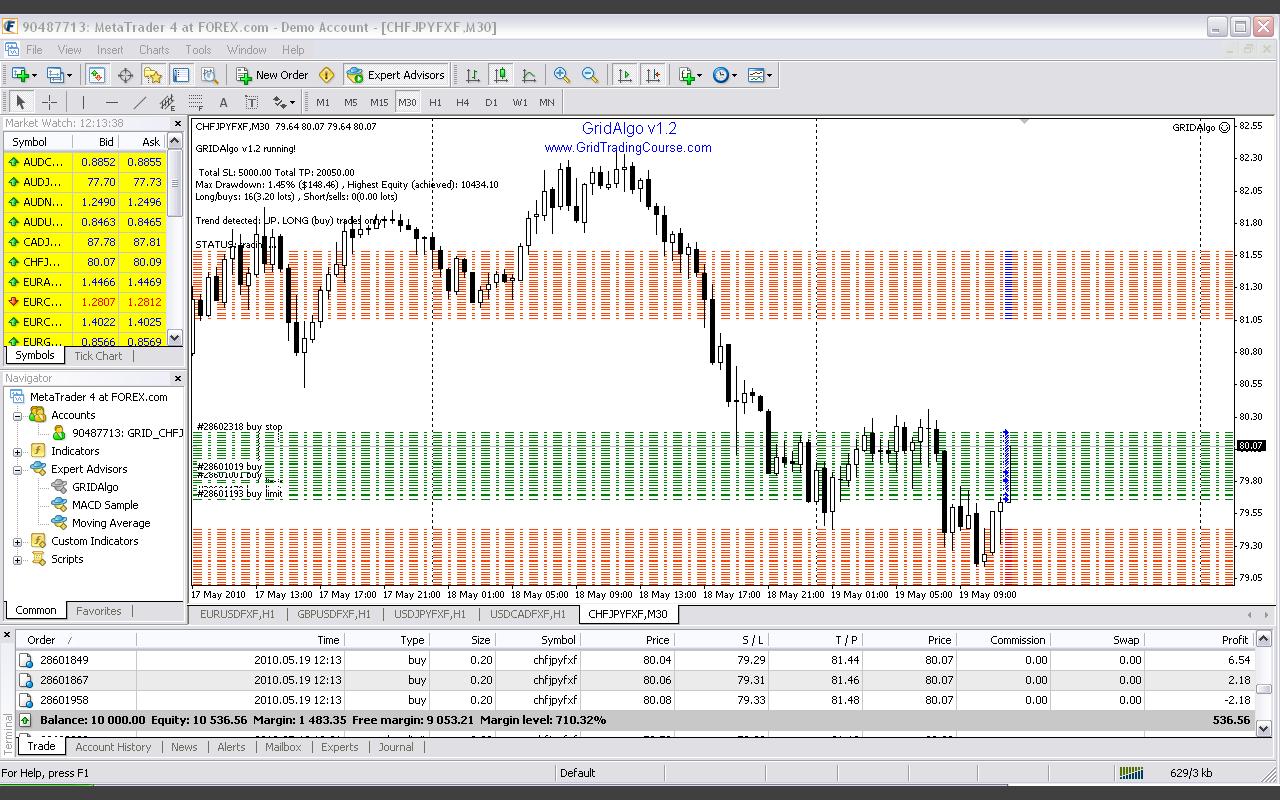 Pic.2 - News Grid Trading session on CHFJPY.
It is a demonstration we did of our now popular News Grid Trading System. It uses the methods that we explain in details during our course and the software that comes along it. As you can see there are numerous lines on the chart. Each green one shows a trade executed at that price. Red lines show where the StopLoss and TakeProfit levels were. Final result was more than 55% of net profit for just a few hours of trading. You can watch a video of the above trading session unfold on our website here:
Video Recording of a News Grid Trading session on CHFJPY
As mentioned earlier Grid Trading
is most popular on the Forex markets - in fact you can often read about it being referred to as Forex Grid Trading. However there's no limitation on the type of market you can use it with. It can be successfully traded on virtually any financial instrument out there - for example it also performs very well on futures and indices. In other words Grid Trading is a truly versatile system.
You can also read a lot about the Fully Hedged Grid Trading, Hedged Grid System, etc. This is actually a reference to a particular type of grid, what we call a "classic grid". It executes both a long and a short trade on every grid line thus creating a "hedged" position there. Classic Grid is extremely effective during ranging markets and can be devastating to your account during strong trends (especially if you don't use any risk nor money management).
Ok, so, is Grid Trading profitable?
Short answer - yes, definitely, Grid Trading is a profitable, time-proven trading system. Need proof yourself? Please take a look at the results published on our website GridTradingCourse.com. Clear and verifiable results. Full brokerage statements included, some trading sessions even recorded on video:
Grid Trading Results
You can find more articles, videos and further information about Grid Trading here.